Three of Tesco's suspended execs have now quit
Heads were always going to roll for the £263m accounting scandal.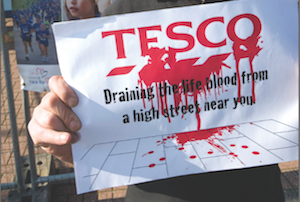 When eight Tesco execs were suspended after a £263m profit overstatement was uncovered in September, it was clear that new boss Dave Lewis was going to take the axe to his top team at some point in the near future (although none of those execs have been accused of doing anything wrong). Now reports have emerged that three of the so-called 'Cheshunt Eight' have indeed departed Tesco's Hertfordshire hq.

Group commercial director Kevin Grace, UK finance director Carl Rogberg and UK food commercial director John Scouler left the company on Wednesday, according to 'people familiar with the situation' cited by the FT. Tesco, as is wont, refused to comment.

The overstatement relates to income from suppliers (which pay Tesco to run promotions on their products) being booked early and has been going for a more than a year, Tesco said last month, as it reported half-year profits had plummeted 92% and chairman Sir Richard Broadbent fell on his sword and resigned.

The debacle, compounded by the arguably more serious underlying issue of Tesco's haemorrhaging sales and market share at the hands of German discounters Aldi and Lidl, sent the supermarket's share price tumbling to an 11-year-low last month. It has since recovered a bit, although it fell more than 2% to 181.5p this morning. In the last year, Tesco has lost almost half its market cap, which is now £14.7bn

The Serious Fraud Office is currently investigating the accounting scandal, a process that is likely to take years. No doubt 'Drastic Dave' will want to clean up Tesco's leadership well before the SFO actually gets round to blaming anyone.

It means the supermarket goes into the crucial Christmas period with a seriously underweight senior team. Its website crashed today on the American-imported madness that is Black Friday, but there may not be many people left for Lewis to fire.