Three ways to write like Warren Buffett
Warren Buffett's annual letter is gospel to investors - but beneath the numbers it's also a master class in management communication.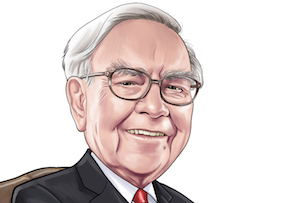 A man is travelling abroad when he takes a call from his sister: their father has passed away. He can't return in time for the funeral, so he asks her to take care of the arrangements and send him the bill.

When he returns, he receives a bill for several thousand pounds – which he promptly pays. The following month another bill arrives for £50, and an identical one the month after. When a third bill for £50 is presented, the man asks his sister what's going on. 'Oh,' she says. 'Didn't I tell you? We buried Dad in a rented suit.'
Funny, but what's more amusing is where I read it: in Warren Buffett's annual letter to Berkshire Hathaway shareholders. Believe it or not, this gag was attached to an essay on long-tail liabilities and reserving errors in the insurance and reinsurance sector.
The annual report of a $360bn (£233bn) international conglomerate might seem like a surprising place for comedy, but not if you've followed Warren Buffett's style of communication over the years. He's perfected the art of explaining difficult concepts in a simple way, without dumbing them down.