Published: 19 Aug 2019
Last Updated: 20 Aug 2019
You would assume that a world increasingly run by machines following preset rules would be more predictable, not less, yet the rise of the internet and AI has shown that this is far from the case.
This is a good thing, says David Weinberger in his book Everyday Chaos, because paradoxically, while tech has left us confronting the stark reality that the world is far more random than we can comprehend, it also leaves us better placed to navigate that uncertainty – just as long as we're comfortable with the fact that we might not understand how our super-intelligent machines reach their conclusions.
The senior researcher at Harvard's Berkman Klein Cente and Google's writer-in-residence tells Management Today that not only does this dispel the illusion that humans are unique in our ability to decipher the universe around us, it's also having a dramatic effect on how businesses operate.
Isn't chaos a bad thing?
"The chaos in the world is not simply that bad things can happen randomly – really good things can happen too. For example when things go viral on the internet, we don't exactly know how.
"The signature idea of chaos theory is that very small changes can have a very large effect. When you apply simple causal laws to a business environment in which there are so many parts and interconnections, causality can result in these sorts of non-linear jumps. So it's essential to be aware of that."
It seems deeply unnerving that we can't understand how machine learning comes to its conclusions...
"So was the idea that the Earth is not the centre of the universe. It is unnerving but these machines produce more accurate results than we can.
"Yet now we're able to succeed through this technology, which is helping us accept the fundamental fact that our way of thinking about the world may not be as reliable as we thought."
What does that mean for business?
"For millennia we have thought that we can find general rules and principles that are sufficient to guide us, and that it's safer to rely on a long-term strategy. The successes that we've had on the internet have acclimated us to the fact that the market is much more chaotic and this shows up in some of the approaches that companies have taken online that work, but are fundamentally different from how we have approached dealing with the future previously.
"For example, there can be hidden costs to the age-old strategy of preparing for what you think the market might want. Companies are trying to minimise those costs by refusing to anticipate what they think users want, instead launching minimum viable products – unrefined, with a single feature at their core – to find out what they want.
"The workplace messaging app Slack shows this well. Slack understood that it couldn't anticipate all of the users' possible needs and, even if it could, it didn't have the resources to address them all, so it created an open platform that any developer could edit."
You're saying that long-term strategy is a thing of the past?
"At least since the 1970s there has been a lot of work pointing to the dangers of long-term strategies that are insufficiently prepared for physical, geopolitical or market changes occurring outside of their control. That's why scenario planning became so popular.
"Businesses should do what works for them, what's responsible and helps them survive, but the thrust of the book is that our experience on the internet, and the sorts of models that machine learning makes for itself, tell us that we have been blinkered in our way of thinking about the future."
So how can businesses survive in this chaotic world?
"There are tremendous advantages of designing for interoperability (when a part of one system is used by another system in a way that it might not have anticipated). It adds serious value to a product by adding longevity but means giving up an element of control. One way of mitigating that is to initiate standards with your competitors. This is why Toyota and Tesla have open-sourced some of their patents – they want to get electric cars moving.
"Giving up on the belief that only one business can be the sole determiner of the uses for its products, or embracing that they can be extended, are both solid steps to take. It's important for companies to participate in an ecosystem now."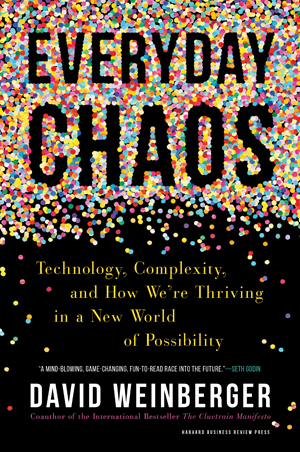 ---
Image credits
Cover: Photo by rawpixel.com from Pexels
Body: courtesy of Harvard Business Review Press