Thumbs down for Brown from SMEs
It's becoming increasingly clear that Gordon Brown is going to need a lot of spadework if he's going to recover the credibility he lost with his vacillation over the general election. A new study shows that his popularity with small and medium-sized business owners – a community he has assiduously courted – is currently at an all-time low.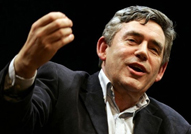 A substantial 71% of small and medium-sized business owners and managers now think Brown and Alistair Darling are bad news for UK enterprise, according to a survey by research consultancy FreshMinds.
Nearly half of respondents were pessimistic about the economy's prospects for the next 12 months, while not surprisingly, the changes to the capital gains tax regime have lost the pair a lot of friends – 54% reckon the changes will have a negative impact.
Worryingly, some SME managers seems to think that running a business is now more trouble than it's worth. 35% reckon they'd rather be an employee than an employer at the moment, and respondents seemed more preoccupied with the shortcomings of the current government than the kind of day-to-day business issues that would normally be top of the agenda.