Thy will be done: CofE wades in on the porn debate
The Church wants to use its (not inconsiderable) financial force to make ISPs do more to combat porn. Praise be?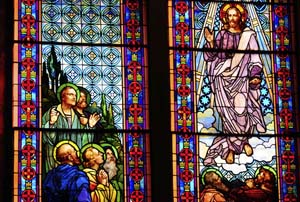 Looks like the days where all the Church of England worried about were dog collars and cucumber sandwiches are numbered. The Church has threatened to withdraw millions of pounds' worth of investment in internet service providers, unless they do something about porn on the web. Apparently, it's even gone as far as to launch a review into the matter, the results of which we won't find out for several months.

It's by no means the first time a church has used its financial mettle in an attempt to effect a change in business. Only last week, the Pope threw his weight behind the idea of a 'Robin Hood' tax on transactions. And a few months ago, the Church of England approached supermarkets to try to persuade them to be more responsible about how they sell alcohol.

Thus, you won't find any companies which are deemed to 'fuel' the problems Christians are trying to solve among the Church of England Ethical Advisory Board's £5.3bn portfolio. That means no brewers, no casinos or gambling websites, no tobacconists, no defence companies and (slightly left of field) nothing where cloning is involved. So no chance of a Church-sponsored Dolly the sheep 2.0…

But even with God on your side, being a religious organisation with money to burn isn't simple. The trouble with pornography is that it's not an entirely black and white issue. The Church says its criteria for investing in media companies (which ISPs come under the umbrella of) are that they must have a 'positive influence on society by educating, entertaining and uplifting by individual experience' – which means nothing where a 'major part' of the company's business involves the production, transmission, publication or distribution of porn. The problem for students of ethical investing is that typically, ISPs don't produce anything themselves, they simply facilitate access to what others create – good, bad or indifferent. But the Church reckons ISPs have a duty to act, and that without taking action, they're in effect complicit in the porn biz. Eeek.
Could this be the start of a new era of religious involvement in the stock markets? Perhaps it's time for those inside and those outside St Paul's to join forces…