Ticketmaster and Live Nation face the music
The UK competition watchdog wants to pull the plug on the proposed Ticketmaster/ Live Nation tie-up.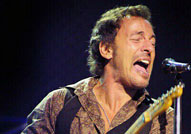 The planned merger between Ticketmaster and concert promoter Live Nation has been dealt a blow after the UK Competition Commission ruled against it, arguing that it could lead to higher prices and poorer customer service (while putting rivals out of business). And it's not just the authorities who are fretting – even aged rock star Bruce Springsteen is up in arms, claiming that music fans would suffer. The two firms are still hopeful of talking the Commission round – and since they're both US-based, it's powerless to block the whole deal anyway. But it can certainly make their life a lot more difficult...

The warning signs have been there from the start: Ticketmaster and Live Nation's announcement of their plan to join forces, back in February, immediately sparked a competition probe in the US. It was suggested that the merger plans would create a 'near-monopoly', limiting competition and possibly pushing up prices (as if they weren't high enough already - £150 to see Madonna, anyone?). Back in the UK, concerns centred on a deal Live Nation had recently signed with the world's second largest ticketing firm, CTS Eventim (Ticketmaster's arch rival), to handle its live music shows and venues on British turf. Clearly this deal would leave CTS surplus to requirements, or at the very least, it would severely curtail their access to the UK market.

Inevitably, Live Nation and Ticketmaster remain defiant. They reckon the merger would improve ticket price options and technology, and increase the number of attendees at gigs. And they'd certainly be a force to be reckoned with, given Live Nation's touring and publishing deals with the likes of Jay-Z and Madonna and huge concert promotion arrangements with pop favourites U2 and Shakira. The company has always used Ticketmaster as its principal ticketing agent (although their agreement is set to come to an end in December, which is presumably making Ticketmaster bosses a little nervous). But we must admit, we're struggling to see what the benefit to the consumer is of this merger - is a slightly jazzier back-end a reasonable excuse to corner the market?

However, this preliminary UK ruling won't derail the process; although the US authorities could halt the merger, the Commission here is powerless to block it. That said, it could make things on this side of the Atlantic very tricky indeed – it's apparently mulling drastic measures such as forcing the firms to sell off one of their UK businesses, to ensure CTS and other third-party retailers can act as an agent for Live Nation's tickets. Watch this space...

In today's bulletin:
What better way of killing the Royal Mail than a Christmas strike?
Rumoured Lloyds rights issue raises awkward questions
Ticketmaster and Live Nation face the music
Sir Victor Blank tells MT why he agreed to buy HBOS
Lunch is for wimps?