Too tired to work
Obesity, acne, leprosy, tiredness and gout – just five of the 480 complaints cited by Britain's 2.7m recipients of incapacity benefit last year. Now the government wants to crack down on our 'sick note' culture by introducing a new disability test that could cut this number by a third.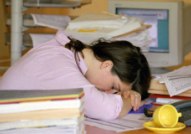 Work and Pensions minister Peter Hain said on Monday that the government was bringing in a new test designed to get more people back into work. Instead of focusing on proof of disability, the focus will be on working out what claimants can do – so even if you can't lug heavy boxes around, you might be perfectly capable of sitting in front of a computer screen all day looking at Facebook with other office staff.
The Government's figures attest either to the growing ills of modern society, or to the imaginative lengths we'll go to in order to get out of work. People who are too fat to leave the house are receiving £4.4m a year in incapacity benefits. Fifty people got signed off with acne. Nearly 100,000 alcoholics and drug addicts received a total of £130m because they couldn't work. And 200 people got a doctor's note because of swollen testicles.
The biggest rise has been in the number of claimants who have been signed off with stress-related illnesses, who will now be offered counselling to try and get them back into the workplace.