TNK-BP sale may finally happen, shares rise
Shares in BP rose this morning following reports that it has finally managed to sort out a sale for its TNK-BP joint venture to Rosneft.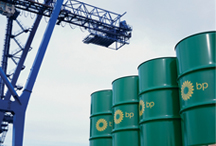 BP's notoriously fraught partnership in the TNK-BP Russian joint venture may finally be over, as it seems they have secured a sale of the business to competitor Rosneft for around $28bn. Rumour has it the offer will be around $15-20bn in cash, as well as a 10-20% stake in Rosneft. If the deal actually goes through without any glitches, it will make Rosneft the largest publicly traded crude oil firm in the world. And majority state-owned by the Russians at that.
BP's shareholders were obviously pleased with the idea this morning, as stock rose 0.7% in early trading. It's a good time for the sale to be on the table too: stocks in other resources looked good today because of data showing that China economy grew 7.3% in the third quarter of this year. This is in line with forecasts and will calm fears of a slowdown in China to some extent. With Chinese demand still on the up and up, BP can at least hope for a decent price for TNK-BP.
The sale is in many ways a relief for BP, which just a few months ago looked like it might face forced sale terms at a knockdown price. The tensions between the British firm and the other 50% shareholder (a group of Russian billionaires called AAR) have been obvious to the international business community ever since Bob Dudley, currently chief exec at BP, was booted out of the top job at the Russian venture back in 2008.