TNT offers to 'help out' in postal strike
TNT, Britain's largest private mail operator, has selflessly offered to fill any gaps left by post strikes.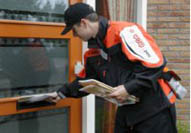 The Dutch-owned firm is so eager the help out (and also perhaps to get its mitts on some of Royal Mail's lucrative business) that it has even asked Government ministers to help get TNT postmen, clad in their attractive orange uniforms, onto the nation's streets.
Trials have already been carried out in several UK cities, and Nick Wells, TNT's chief executive, insists they're up to the size of the challenge. But exact details about how it might work on a larger scale proposal are thin on the ground.