Tony Ryan remembered
On good travel days we talk of 'Ryanair', but on bad ones, it's 'O'Leary air'. So strong is the cult of Michael O'Leary, with all its angry, foul-mouthed trappings, that few of us stop to reflect on the airline's founder, Tony Ryan, who died yesterday at the age of 71.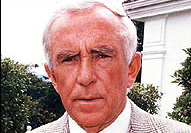 A Tipperary train-driver's son, Ryan left school at 16 and joined Aer Lingus, setting up aircraft leasing operation Guinness Peat Aviation in 1975. Floating the company on the stock market in 1992, during an industry downturn, was a disaster. GPA crashed and burned, $10bn in debt, bringing with it some of Ireland's biggest business names.
Ryan moved into passenger airlines in 1986, launching Ryanair with a single 15-seater plane. Still under contract to GPA, and prevented from owning an airline in his own name, Ryan set up the new company as a trust, of which he would not be a beneficiary. Ryanair was for his children – making it all the more remarkable that he took on an outsider, O'Leary, whose business experience at the time he was spotted by Ryan was limited to owning and running a chain of corner shops.
The early years were turbulent, and Ryan family members wandered in and out of the top posts before O'Leary, inevitably, became CEO. Twenty years on, Ryanair is Europe's biggest budget airline, the world's largest in terms of passenger volume.