Top 10 entrepreneur movies, part one
MT digs out the best movies about wheelers, dealers and business legends.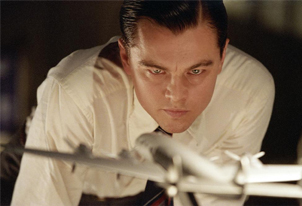 Forget slasher movies and rom coms – with the upcoming release of Jobs, the Steve Jobs biopic, entrepreneur flicks are where it's at. MT has dusted off its favourite business movies – all you need to supply is the popcorn. Stay tuned for the second part next week...
The Aviator
Martin Scorsese's 2004 film covers two decades in the life of Howard Hughes (1905 to 1976), the aviator-cum-film director-cum-Hollywood playboy. The Texan-born Hughes was a gifted engineer, aeronautics designer and pilot, a successful Hollywood film director and was one of the main players in the development of Las Vegas. He also built up TWA into a major airline, and in 1938 achieved the fastest-ever circumnavigation of the globe; he was back in New York 91 hours after setting off. He also dated Katharine Hepburn, Ava Gardner and Bette Davis. However, his later life was marred by mental illness and severe pain, most likely caused by serious injuries sustained in a number of plane crashes, and he ended up with a reputation as the US's greatest eccentric. He was perhaps too unique and too damn weird to be someone to emulate, but his ability to turn dreams into reality should inspire anyone to greater things.