The top business women in the world: so what?
It is that time of year when magazines produce their top women in business features.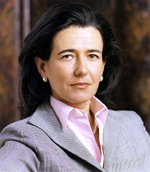 The top woman in the world is Patricia Russo, CEO of the new US-French telecoms combine Alcatel Lucent, according to Fortune. But in her new role at the helm of the $25 billion company, she is untested. The science behind her being given the number one position seems to be based on the fact that she has got to where she has, which on the surface does seem to warrant admiration.
Two Japanese women in the same listing, however, lost their CEO positions in less than a year. Fumiko Hayashi, chairman of Daiei was one in a line of leaders who had not been able to reverse the fortunes of the department store chain. She closed 53 unprofitable stores and changed the company logo before being kicked upstairs to the chairman position.
At Sanyo Electric, the son of the company's founder took over from Tomoyo Nonaka as CEO, just one year after the former TV anchor had been appointed. She now plays a more 'symbolic' role, says Fortune. The company lost $1.7 billion in 2005 on revenue of $20.3 billion. The plight of the two Japanese women CEOs does not tell us much more than the ascendancy of the others. They still rank in Fortune's top 50 though.
The Financial Times put Spain's Ana Patricia Botin, chairman of Banesto bank as their number one business woman in Europe. Botin seems a tough and successful business leader who has managed to establish her own reputation for acumen and success that helps to fend off critics who might otherwise claim she has benefited from being the boss's daughter (Emilio Botin). She worked her way up from a clerical job at JP Morgan to being put in charge of Latin American expansion at her father's company, the Santander Group. She is also ranks 9th in Fortune's global list.
The rankings are fun to read but how much do business readers learn from them? While it is laudable to celebrate the rising number of top females running corporations across the world, isn't it time to offer more insights into what, if any, differences emerge from the fact they are women. And what lessons can it offer global business.
Sources:
50 Most Powerful Women: On top of the world
Fortune, 16 October 2006
Europe's Top 25
FT Magazine, 7/8 October 2006
Review by Morice Mendoza