Top eight crowdfunding sites
When it comes to raising finance, crowdfunding is the new kid on the block. The model allows anyone to invest in a great idea or product, spawning a new generation of so-called 'armchair investors'. Here are the top eight crowdfunding platforms making waves in the UK right now.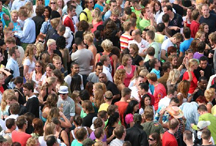 The most famous of all the crowdfunding sites is US pioneer Kickstarter. The platform is aimed at creative businesses and projects, raised just over £2m in its first month, and has signed up 45,799 backers to date.

But if you're looking into crowdfunding as an option for your business, there are many more platforms available - some even homegrown. Many of them have different guidelines and look for different returns for investors – equity or rewards for example, so you'll have to find the right one to suit your project.
Here are eight of the major players, hand-picked by entrepreneurs' organisation Prelude:
1. Crowdcube
Launched back in February 2011, Exeter-based Crowdcube claims to be the world's first equity crowdfunding website. It has just been awarded FSA approval, so it's a pretty safe bet for first-time crowdfunders.

Who's it aimed at? Crowdcube is best suited to ambitious start-ups looking for significant investment to support a growth strategy.