Top five share economy startups
The share economy has risen out of the ashes of the country's disposable incomes and the UK has a few rising stars, saving people money and putting an end to our 'throwaway' ways.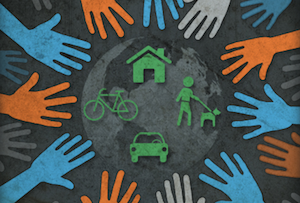 There was a time, not so very long ago, when the idea of renting someone's loft or sharing their car would be repulsive – sending you straight back to the horror of the bobbled, hand-me-down jumpers your mum made you wear to school. But slowly, thanks in no small part to the global recession, sharing has become normalised – it's not seen as a sign of poverty anymore, more a sign of erudition – an understanding the throwaway economy is bad for us – sharing has become middle class.

The latest research backs up the surge in popularity in 'sharing'. According to Zipcar:
If all of Britain were to take up the sharing habit with gusto – it could mean a national saving of £12.4bn.

'The 'Pay-As-You-Live' report highlights the growing importance of the shared hire model, as an increasingly popular – and important – part of the economy,' said Mark Walker, general manager, Zipcar UK.

'It's often more convenient and more flexible to hire, lend or share, and doesn't mean compromising your lifestyle choices, as you can now get 24/7 access to the latest goods and services you need. Today's technology has made the ancient act of sharing simple and relevant, to our contemporary fast-paced lifestyles.'

Zipcar was founded in 2000 over in the US, but there are plenty of homegrown companies facilitating the UK's new found love for all things 'share'.