Top ten bitter corporate rivalries
Following McDonalds' decision to stop using Heinz ketchup because an ex-Burger King-er joined the sauce maker, we decided to delve into some of the corporate world's other jealous duels.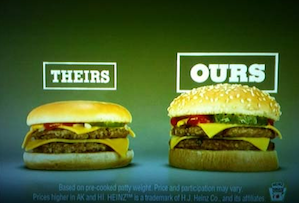 Burger King is doing well. Yesterday it announced its better-than-expected quarterly results, with net profit rising to $68.2m – a massive jump from the $6.6m it reported in the same period last year and according to the fast food chain – largely down to cost reductions. It has said it succeeded in slashing costs by a whoppering 90%. The suits over at Burger King's Florida HQ must be pretty chuffed. One company that won't be chuffed is McDonalds. Burger King's biggest rival and the world's number one burger chain, warned of flat profits and a 'challenging' market last week. It won't be happy about BK's good news.

Burger King and McDonalds have been battling each other for decades. They take snipes at each other in their advertising and they slag each other off whenever they can; 'our burgers are bigger than yours,' 'our taste is better than yours,' yada yada yada. Just this week, McDonalds announced it would stop serving Heinz ketchup in its stores. Why? Because Bernardo Hees, former chief executive of Burger King has just become chief executive of Heinz. McDonalds' toys are out of the pram – sorry folks, no more Heinz ketchup.

To be fair, the world would be a pretty dull place without bitter rivalry to add a touch of spark and a dash of the green eyed monster to everyday life. Oasis and Blur, Celtic and Rangers, Superman and Lex Luther, cats and dogs – we need these opposing camps to enthral us and the corporate world is no different.

Here's our top ten corporate rivalries.

1. McDonalds and Burger King

Burgers at dawn. These two have been warring for years. See above.

2. Tesco and Sainsbury's

Anyone who follows the fortunes of the UK's largest supermarkets will know there's some heat behind the rivalry of Tesco and Sainsbury's. We've lost track of the number of times Sainsbury's has complained about Tesco's advertising – the Advertising Standards Association are probably sick of the sight of the pair. Sainsbury's is currently thumbing its nose at Tesco as its profits continue to rise amid Tesco's continued decline.

3. Apple and Microsoft

The competition between Apple and Microsoft was once personified by the two companies' leaders. Bill Gates and Steve Jobs were eternally compared with one another, their rivalry helped to shape the landscape of technology for a number of decades, their opposing characters only serving to further create two separate camps. The battle continues now, even after Jobs' death – most recently with Apple's decision to offer its Mavericks software for free – threatening to take a chunk out of Microsoft's market share.

4. Adidas and Puma

The story of rivalry between Adidas and Puma is a tale of family feuds and affairs as well as trainers. The two companies were set up following a fall-out between Adi and Rudi Dassler 60 years ago. The brothers had been running a company called Gebruder Dassler Schuhfabrik and making shoes for the likes of Jesse Owens (1930s Olympic athlete) when they fell-out (one of the stories is that Rudi slept with Adi's wife) and disbanded their company. Adi set up Adidas and Rudi, Puma, with factories either side of the Aurach river (the HQs remain there today).

5. Airbus and Boeing

Boeing once dominated the skies but upstart Airbus, a subsidiary of Franco-German defence company EADS has been eating away at Boeing's dominance for years, and edged into the lead in 2003. Boeing has recently been hampered by delays to and subsequent problems with its Dreamliner aircraft. Airbus took a pretty obvious swipe at Boeing with an ad campaign last year depicting a Boeing plane with a Pinocchio nose.

6. Sky and BT

Sky and BT have been competitors in the broadband market for years but the rivalry between the two become more intense when BT announced it would be bidding for Premier League football licenses last year. Since then, BT has launched a huge marketing campaign to try and lure some of Sky's loyal football fans away from their usual Sky channels, using a range of celeb presenters. Sky's latest results have shown no huge drop in subscribers but BT's move into Premier League football has sent license fees rocketing – taking a chunk out of Sky's profits.

7. Procter & Gamble and Unilever

When Anglo-Dutch consumer goods company Unilever entered the US market it became a direct competitor of Procter & Gamble – the industry leader in the States. The rivalry between the two has become more apparent as they have expanded into the other major markets in the world – since they entered these on an equal footing. In 2000, Procter & Gamble hired espionage agents to spy on Unilever and get information on its hair care business – not long afterwards it was caught and had to pay out $10m to Unilever. At on point, P&G confessed to rifling through Unilever's rubbish for information.

8. Apple and Samsung

Yes, it's the second appearance of Apple (we could also add Apple and Google...but will grow tired of talking about the computer company) – Apple and Samsung compete fiercely in the smartphone market and are in and out of court with patent rows as often as they launch new products. Apple's iPhone once dominated the smartphone market but Samsung's range of Galaxy phones have helped it to become the world's number one smartphone maker.

9. Energiser and Duracell

This really is the tale of two bunnies. Duracell was the first ever company to introduce an alkaline battery into the market but in 1959 the Energiser battery was introduced by Eveready, and the starting gun was fired on fifty years of rivalry. In 1970, Duracell created an ad campaign featuring the Duracell bunny – the Energiser bunny followed very quickly, and much to Duracell's annoyance, became the more memorable mascot.

10. Coke and Pepsi

Although this battle has been won for now (Coke has outpaced Pepsi significantly in recent years) – the rivalry between the two fizzy drink markers is of such legend, no list would be complete without it. Coke was introduced in 1886, 12 years later Pepsi came on the scene and the two have been vying for control of the Cola market ever since – yes, that's over a century.