Top ten tips: How to brainstorm in the cloud
The traditional office brainstorm has evolved. These days you don't need coloured pencils, mood music and donuts to encourage the ideas to flow. It can all be achieved in the cloud, says Thomas Davies, head of Google Enterprise UK. Get cloudstorming!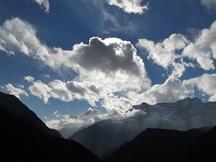 Far from being limited to media and Mad Men style advertising agencies, brainstorming has become common practice among businesses of all kinds. However, the traditional brainstorm has had a bit of a backlash in recent years, with many experts and psychologists questioning if getting people together in a room and writing on coloured post-its is really the most effective way to come up with fresh ideas.

A meeting of minds online, rather than in person, - or a 'cloud brainstorm' as it's now known - could represent the next stage. Some businesses are already taking this approach and have seen the benefits - those who can be shy about sharing their ideas in person get a chance to present them in a less pressured environment and those who are based remotely can get more involved in the idea-sharing process.

So can brainstorming in the cloud offer a more progressive and productive alternative to traditional brainstorms? Here are top ten tips for businesses that are curious to know more...

1. Let someone else hold the conch
We've all been in those meetings where the same dominant members influence the discussion, leaving those who are quieter with no voice. Cloud computing can offer one solution here. With online communication and collaboration tools such as Google Apps, there's no need for everyone to be sat in a meeting room at the same time to come up with ideas. Instead, users can input ideas into a shared online document, at the same time, without the pressure that arises from people demanding ideas from you on the spot.

2. Ideas can occur at the strangest times. Just ask Newton....
It is a proven fact that when individuals are grouped together, their thoughts are influenced by what other people say. This makes it harder to come up with fresh, original ideas. Art Markman, a cognitive psychologist, suggests that when an idea is presented, our mind limits itself to riffing of that original suggestion, deleting ideas you may have had previously. But when you set up a document in the cloud and encourage staff to input their proposals wherever they think of ideas, you break the monotonous cycle. Staff can add to the document while at home watching TV, on their lunch break or working on something completely different. Often the most creative ideas will arise from this spontaneous approach.
3. Get everyone to pitch in
It can be difficult getting 20 people with various levels of seniority into a room to discuss a new idea. Often, a few key individuals end up left out of the discusssion to the detriment of the brainstorm. For example, junior employees may give greater insight into how to improve customer relations if they are dealing with customers on a daily basis. AIt is often easier to put something in writing than it is to address someone face-to-face, so conducting a brainstorm in the cloud will mean that more junior members will feel less intimidated by the prospect of sharing ideas with their managers. And you could learn some interesting home truths, as well as getting some strong, creative ideas.

4. Brainstorm across multiple locations
Having employees spread across multiple locations often makes it difficult to solve business problems through a traditional face-to-face meeting. By inviting the most appropriate individuals to a 'cloud brainstorm', you are no longer excluding individuals who are unable to commit to reach a certain location to meet in person. You can still hold a virtual face-to-face meeting through video chat tools like Google+ Hangouts. This will help bring personality to your cloud brainstorm despite the distance, by showing the excitement on employees' faces as they share their ideas, no matter where they are.

5. Inspire ideas by using visual tools
Some of us are very visual thinkers and find it much easier to express ourselves in pictures than words. Much like building a mood board for traditional brainstorms, virtual drawing tools can help create mind maps and diagrams, enabling staff to express their ideas more clearly and adding an extra dynamic to your brainstorm.

6. Involve your customers, clients and partners in ideas generation
With cloud services, it is easy for administrators to add specific users to shared documents and spreadsheets, inviting them to build out the ideas in the document. This means you can go further than you would in a face-to-face meeting and invite customers, expert third parties or suppliers to contribute, getting a fresh perspective on any particular business issues.

7. Bank your ideas
In a traditional brainstorm, it is rare for all ideas to be captured. However, by storing all your ideas in one online ideas bank, you can build up a constant source of inspiration, which will help generate future ideas. One of our customers, Hummus Bros, has taken this step and found it really helpful for brainstorming new menu additions, design concepts and marketing strategy, with staff adding thoughts over a period of time.

8. Try an instant messaging brainstorm
At Google we're huge fans of the quick responses you can get from your colleagues through online messaging tools. If you're really under pressure to generate ideas and don't have time to organise a meeting or set up a shared doc, then often just firing a question out to a few colleagues can get your thought process going.

9. Reward employees for ideas
It's important to reward employees when an idea is seen through to execution, even if the idea came from a shared document. Our own research found that 58% of employees say they would come up with more creative ideas for their employers if they were rewarded for them. Try to keep note of who the most frequent contributors are (you can even check how active they have been in the document with some tools). Often simple acknowledgement of an idea gives staff the opportunity to raise their profile with senior management, but incentives may be appropriate on occasion if the idea is particularly groundbreaking.

10. Don't give up on traditional methods
Sometimes it is best to meet in person as group brainstorms can help reaffirm working relationships, break up the working day and give employees the chance to verbally showcase their ideas and views. The cloud can still help here by allowing meeting organisers to access online staff calendars and quickly find a suitable meeting time. Meeting in person after conducting your brainstorm in the cloud might be preferable, as it will allow you to present the best ideas and discuss how they can be developed.
Thomas Davies is head of Google Enterprise UK.