The Tories are 'at war', but UK plc still needs the BBC
The Conservatives should protect one of Britain's great brands, even if it could use a lesson in careful spending.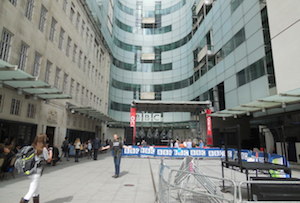 'Tories go to war on the BBC', barked The Telegraph's front page this morning. It's 'payback time' for Auntie, The Sun gloated in a leader. New culture secretary John Whittingdale is a known critic of the licence fee and the right wing press is duly making hay.
Whittingdale's predecessor and new business secretary Sajid Javid denied the new government had 'gone to war' this morning, but there is no doubt it will take a harder line in next year's negotiation over the BBC's charter renewal than if the Lib Dems had also still been in power.
The former head of the Culture, Media & Sport Committee has previously said the licence fee is 'worse than the poll tax' and 'unsustainable' in the long-term, although he did say he expects it to survive until the end of the next charter period in 2026. That's not to say, though, that the £145.50 payment won't be cut if Whittingdale decides to impose some Conservative austerity on a famously bloated organisation.