Tories take Route 66 on retirement debate
Raising the retirement age makes perfect sense - although older workers might well beg to differ...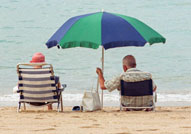 Today's headline-grabber from the Tory party conference in Manchester will apparently be a plan to raise the state retirement age to 66 by 2016, ten years ahead of the current schedule. George Osborne will claim this move would save £13bn a year (about 0.75% of GDP) and help restore the link between pensions and earnings. Naturally Labour has been bleating about how unfair it is, particularly for women – but with the public finances in a mess and life expectancy increasing all the time, speeding the process up surely makes a lot of sense.

The Government's existing plan is to increase the male retirement age to 66 in 2026, and then by another year every decade (so 67 in 2036, 68 in 2046 etc), while women's pension age is to rise incrementally to 65 by 2020 before falling into line with men. But the Tories are now keen to accelerate this; David Cameron claims that even Lord Turner, who came up with the Government's plan, recognises that he should have been more ambitious given longer life expectancy. And handily, this would wipe an extra £130bn off the public debt by 2026.

There is one obvious snag. Currently, women's retirement age would only be at 63 by the end of 2015. So the Tory proposal would see it jump three years overnight – rather unfortunate for those who just miss the cut-off. It's certainly given Labour a stick to beat the Tories with, and it forced Cameron to go on the defensive this morning, telling the Today programme that a jump like that was 'out of the question'. He also said there would be an independent review to work out the best way of doing it (though surely they should have worked out the details before announcing the policy?).
A move like this wouldn't be universally popular, as Cameron accepted today. On the plus side, it would mean the Government could afford to link the state pension to earnings rather than inflation from 2012, which would put more money in the pockets of existing pensioners. And with an ageing population, the alternative is that a shrinking pool of working people have to finance a growing pool of pensioners. On the other hand, older workers might not like the idea of having to work longer (although others may welcome the idea, of course).

The Government will no doubt try and score a few points with this (and it's already tried to hijack the headlines by announcing a freeze on pay for senior civil servants – that'll do wonders for their popularity in Whitehall). But we can't help feeling that this hike in the retirement age is long overdue, given that we're living so much longer, and 2026 is an awfully long way away. Some people are going to lose out whenever you do it - and given the great big hole in the public finances, there's a lot to be said for accelerating the process.

In today's bulletin:
Tesco bounces back - but denies Rock bid
Tories take Route 66 on retirement debate
Don't believe everything bloggers tell you
Osborne courts entrepreneurs with NI holiday
Christmas service could make or break retailers