Tory boost as SMEs blast the government
Despite the so-called 'Brown bounce', the PM still seems rather unpopular with the small business lobby...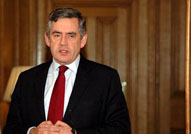 More than three-quarters of SMEs think the government must do more to help small companies, according to a new survey by business network cmypitch.com. Top of the list of gripes was (predictably) access to finance, although a quarter of respondents were also demanding tax cuts to stimulate growth. A Populus poll today for the Times on Tuesday suggested that the Tory lead had narrowed from 15 points to 6 points, with voters convinced that Brown is the best man to steer us through the economic ordure (even if he was partly responsible for it). But SMEs are clearly not convinced…
As you'd expect, the survey's 2,000 respondents turned out to be a pretty gloomy bunch: 52% said the current crisis would have a negative impact on their business, a third are expecting sales to drop, and nearly 10% reckon they'll go to the wall if they can't get their hands on some cash from somewhere. In fact, almost half said they were on the lookout for extra funding, but the vast majority were having serious trouble finding it. The answer, they believe, is for the government to start putting its money where its mouth is – either by pressuring the banks into lending, or by providing temporary loans itself.
Tax cuts were second-highest on the wish list, which will be music to the ears of one man: David Cameron, the chief victim of the so-called Brown bounce. The Tory leader's latest policy wheeze, which he announced on Tuesday morning, is to reduce National Insurance payments for businesses who take on people who have been on the dole for at least three months. Unlike the tax cuts that Gordon Brown is hinting at, this won't actually require another massive jump in borrowing (since it can be funded from the unemployment benefit pot). Although the bad news for businesses is that it'll be an awful lot smaller as a result (small enough to be insignificant, some might say).