Tory MP: Leveson 'must not have a blank cheque'
A senior Tory MP has piped up warning that Lord Justice Leveson should not be given a 'blank cheque' to make demands on press regulation.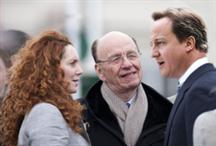 With Lord Justice Leveson's report on media ethics and practices due to be published today, the media is a-chatter about what will become of their editorial freedom.
But ahead of the publication of the report, John Whittingdale, a Conservative MP has said that to follow Leveson's recommendations in Parliament blindly is not the best idea. He told the BBC: 'We shouldn't just give Lord Justice Leveson a blank cheque to dictate what Parliament does, however eminent a judge he is.
'I think that these recommendations are hugely significant. If we do decide, for instance, to adopt some kind of law, it is very important that Parliament satisfies itself that that is the right thing to do. And part of that process is to hear from the various parties affected by it and to hear the different arguments. This is a matter for Parliament to decide.'