Tottenham Hotspur to delist from AIM
The Premier League club reckons its AIM listing is more trouble than it's worth, and is limiting its ability to finance a new stadium. Or perhaps it's just happier out of the public spotlight?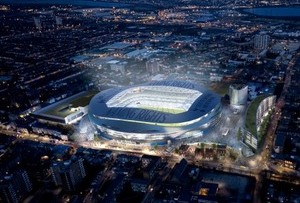 Premier League football club Tottenham Hotspur has announced plans to go private again. The move, scheduled for January, would mean an end to its almost 30-year stint as a public company; it first listed on the stock exchange in 1983, transferring to AIM in 2003.
Chairman Daniel Levy says the listing is hampering the club's ability to finance a new stadium, which isn't exactly a glowing endorsement of AIM. But with the recent controversy over the Olympic Stadium and its manager's tax affairs, you can see the attraction of life away from the scrutiny of external shareholders...

Levy's argument is that life on AIM isn't easy or cheap - and that this cash would be better put towards its proposed new stadium, a project that the club has been working towards since 2007. Levy is determined to expand the capacity of the club's current ground, White Hart Lane, to keep up with rivals - it can currently cram in about 36,000 people, which is less than half as many as current champions Manchester United. Just to really rub it in, the old enemy Arsenal can now fit 60,000 Gooners into its shiny new Emirates stadium.

The club has so far failed in its bid to take on the new Olympic Stadium post-London 2012, losing out in an acrimonious legal battle with West Ham - and it could be about to get more acrimonious still, given that Spurs were recently accused of spying on the board members of the Olympic Park Legacy Company by the OPLC's Chair Baroness Ford (Spurs denies the allegations).

It did, however, manage to get planning permission for its own new ground, in September this year. And as far as Spurs fans are concerned, life is generally pretty rosy at the moment: the club has enjoyed a resurgence since hiring manager Harry Redknapp, reaching the quarter finals of last season's Champions League and being well placed to qualify this time round too. Not surprisingly, this has made life easier for the suits: operating profit (excluding player transfers, natch) jumped 42% to £32.3m this year, up from a £6.5m loss in 2009/10.

There is a possible fly in the ointment, though: Redknapp's imminent trial for tax evasion, which is tabled for next January - around the same time as the proposed AIM delisting. We're sure the two things are just coincidental. But it goes without saying that a negative outcome wouldn't exactly be great for the share price...

Naturally, Levy is insisting that it's all about the stadium. "Increasing the capacity of the club's stadium is a key factor in the continued development and success of the club and will involve the company in considerable additional capital expenditure,' he says. This will be easier away from AIM, he insists.

Tottenham Hotspur shares closed yesterday at 46 pence, giving Spurs a market capitalisation of around £100m. Or - if you believe today's newspapers - about three Gareth Bales.