Tough love works best
The world has had its share of ferocious bosses down the years. From Genghis Khan to Gordon Ramsay, countless figures have become legendary for their take-no-prisoners approach to leadership. But it appears staff are happy working under an iron fist as long as it gets results. Better that than being led by a bumbling softie.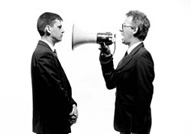 A new report by the Institute of Leadership & Management and consultant AQR found that, of the 1,500 managers surveyed, the majority preferred to work for a 'hard taskmaster who got results' than someone who was 'nicer' and more concerned about them as a person but just didn't get the job done.

Of course, satisfaction at work has never been about curling up under your desk and having someone offer you warm milk and a cuddle and reassuring you that everything is going to be okay. Take the world of football. Manchester United is a club ruled by Sir Alex Ferguson, a man whose fiery vocal blasts have earned him the nickname 'the hairdryer', and who once famously kicked a boot in the face of David Beckham – putting several stitches across the pin-up's precious visage. But Beckham can't be too upset. It was Ferguson's empire that launched his career.

On the other end of the scale, this writer once played for local side Garrick United, whose manager was known throughout the league as the nicest man in the world. Trips to his house for post-match bacon sandwiches were a common occurrence. Goals and points, however, were not.

Of course, what the report fails to mention is how people rate working with a boss who is nice, interested in them as people and takes them out for the odd lunch, and yet still gets results. Somehow it seems that this approach may well be the winner.