Town centres need postwar-scale rejuvenation
The Distressed Retail Property Taskforce is the latest organisation to call for an overhaul of Britain's high streets.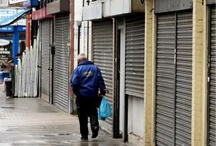 Britain's high streets need to be re-shaped on a scale not seen since postwar Britain, a group of property owners and managers said today.

The Distressed Town Centre Property Taskforce says the retail industry is changing so quickly, that many towns and cities need a complete overhaul to keep up.

The taskforce, which was set up last year following Mary Portas's rather ineffectual review of the High Street, recommends the government designate town and city centres as key national infrastructure in order to attract more funding opportunities.

The report also suggests:


Multiple ownership in town and city centres is a major barrier to change. The government should pilot a joint venture vehicle, and an associated high street property fund, to pool land assets and address fragmented ownership
Making it easier for councils to use compulsory purchase powers in order to bring about the scale required for major urban regeneration
Local authorities should take more risk in investing capital reserves now, which can be replenished as the economy recovers
Significantly greater flexibility in the planning system is needed to quickly enable redundant retail premises to have more economically productive uses.

In the last few years, high street retailers have battled against cheaper online competition and a fall in consumer confidence amid rising pressure on household income.

Town centre shops closed at a rate of 18 a day in the first half of this year, figures by the Local Data Company show. Recent notable casualties include Blockbuster and Tie Rack.

The figures also reflected the changing profile of the High Street. Clothing, shoe, furniture, photographic and video shops were among the hardest hit with 500 stores closing in the first half of 2013. Meanwhile there were net openings of 97 charity shops, 62 cheque cashing outlets, 53 betting shops and 52 grocery convenience stores.

Mark Williams, the chairman of the taskforce and director of Hark Asset Management said: 'Empty or dilapidated property is a visible symptom of the struggle town centres are facing.