Toyota recalls 75,000 cars in Britain as part of global recall
The world's largest car manufacturer is recalling around 75,000 vehicles in the UK as part of a 2.77 million global recall of cars over steering and water pump problems.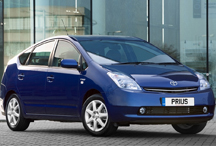 The firm says that there have been no accidents or injuries so far, but said it has received 400 complaints in Japan because of a water pump issue, and just a few over steering.
In the UK the recall affects drivers of certain models of its well-known Avensis and Corolla model produced between July 2001 and March 2009. It also includes a few Prius models manufactured between July 2003 and April 2009.
This is not the first time in recent years that the company has had to recall millions of vehicles over faults here and there. Just last month, the firm had to announce a recall of 7.43 million units because of a possible fire risk connected with the electric windows.