Is more trade with China answer to UK's economic woes?
We export twice as much stuff to Ireland as we do to China. Not surprisingly, the Government wants to change that.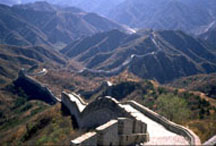 First India, now China. Business will be pleased to see that the Coalition is making good on its promise to do a more active job of promoting UK plc overseas: this week Prime Minister David Cameron is leading the biggest UK trade delegation to China for 200 years, designed to give British exporters a boost in the hugely lucrative Chinese market. The worry is that we're a long way behind the curve when it comes to trade with China, and all the deals announced so far have been fairly small in scale. We'll have to export a lot of breeding pigs to Beijing to address a trade deficit that currently stands at around £18bn...

The rationale is obvious: China is the fastest growing economy in the world (likely to be the largest before too long), and as it becomes richer and spends more of its vast wealth consuming stuff, there has to be a huge opportunity for UK exporters to sell their wares. Yet relatively speaking, we haven't done a great job of that. Last year, we bought £25.4bn of Chinese goods and services, but sold them just £7.7bn of our own – only half as much as we sold to Ireland. Even though China has been buying more British stuff, our imports have been growing at even faster rate. As a result, we're now running a trade deficit of around £18bn, our largest with any country.

Since the state is behind so much of Chinese spending and investment, it makes sense for the Government to go into bat for UK exporters. Hence why this high-powered delegation comprises not just the PM but four other Cabinet ministers, plus over 40 business leaders, including Diageo's Paul Walsh, Barclays' Marcus Agius, and Standard Chartered's Peter Sands. Deals announced thus far include a £45m agreement to sell breeding pigs to China, a £2m contract to supply coal injection technology for gasifiers (we'd like to pretend we know what that means), and - to please the purists - an agreement that only Scottish-made whisky can be marketed as Scotch (Incidentally, MT editor Matthew Gwyther went to Islay last month to work out why demand for malt whisky is flourishing; read it online HERE).

Of course, deals of this magnitude are hardly going to revolutionise UK/ China trade. And we've got a lot of catching up to do: only last week, French President Nicolas Sarkozy took a break from trying to get the French to work for a living by going to China and agreeing some $20bn worth of trade deals. Nonetheless, Business Secretary Vince Cable insists bigger tie-ups are in the pipeline. And either way, China has to represent a huge opportunity. The Chinese have already flagged up potential projects in high-end manufacturing and low-carbon technologies, areas in which the UK remains a world leader – so the demand is presumably there. We just have to get better at meeting it.

Either way it's good to see the Government doing its bit. Let's hope it actually bears some fruit.
Should UK exporters be doing better in China? Or are there too many barriers to trade? Let us know what you think below.