The trains take the strain
Here's a story you don't see every day: apparently in the first half of this year there were more trains running on time than at any point in the last decade. Although before you get too excited, it's worth pointing out that this doesn't include the peak period for the dreaded leaves on the line...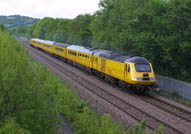 Network Rail said today that train punctuality hit a ten-year high in the six months to June, with 91% of trains turning up on time (a figure that may sound far-fetched to most commuters, but we'll take their word for it). The company, which finally went into the black for the first time last year, even managed to record a £780m profit, up 4% - partly because it's been able to chop 26% off its costs in the last three years.
The surprising part is that punctuality has improved even as the network comes under ever greater strain. Passenger numbers are at the highest level for 60 years, according to Network Rail – three million of us are now taking the train everyday, making the UK the fastest growing train network in Europe. And over the last decade, freight use has also shot up by more than 50%.
News of these record figures will be fairly galling for investors in the now-defunct Railtrack – but since Network Rail has to re-invest its profits back into the train lines, it's probably good news for the rest of us. After all, there's still plenty more work required: without heavy investment, our ageing rail infrastructure just won't be able to take the strain of all these extra passengers.