The transcultural manager
To succeed across borders requires more than a few words of a foreign language - it needs an authentic interest in other cultures.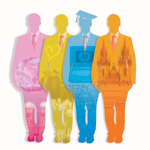 More than ever before, senior executives and managers are required to spend time overseas as part of their work, ranging from short business trips to lengthy postings. The experience can be very difficult, particularly in countries with different languages and customs, and not everybody takes to it. Yet the relentless beat of globalisation means that postings abroad are inevitable for many senior managers in large firms.
A recent study of 270 CEOs of the companies that comprise Canada's Standard & Poors/Toronto Stock Exchange index revealed that 40% had worked outside their home country, up from 29% only a decade ago. The numbers are even higher in Europe. Many companies try to help executives by offering language courses, relocation training and brief courses on cultural differences. But while these can be useful activities, research suggests that they cannot create the mindset required to survive and thrive in a foreign culture. To achieve this, companies must go much deeper.
The phrase 'global manager' has been coined to describe somebody who operates successfully across different cultures, but this suggests a person that does not and cannot really exist. Everyone is rooted in a particular country and culture, and where we grow up has a profound impact on how we view the world. There is no 'global' management style that can be applied in any country and so no global managers. This is why the term
'transcultural executive' is a more appropriate term than global manager.
A transcultural executive is one who is at home in two or more cultures, someone who can cut across cultures. In a sense, transcultural managers are living paradoxes. They manage to have roots and wings. They have roots in their own home culture, ones in which they often take considerable pride, yet they have travelled and lived in other parts of the world. Their wings have taken them elsewhere and allowed them to develop a real comfort in one or more different cultures, allowing them to effectively have multiple selves.
This not an entirely new idea. In his 1890 classic, Principles of Psychology, William James used the metaphor of multiple selves to describe human life. Rather than a single unified self-concept, he suggested that people have multiple selves that they demonstrate in various situations.
In recent times, this view has been expanded by post-modern psychologists. As Mitchell Stephens, professor of journalism and mass communications at New York University, puts it: "Post-modern psychologists believe that we have no single, separate, unified self. They maintain that we contain many selves and that the proper response to the suggestion, 'Get in touch with yourself' is: 'Which one?'" The transcultural person is someone who feels comfortable with the idea that they have more than one self and that they can adjust their behaviour to correspond with the culture in which they currently reside.
After interviewing hundreds of managers who had spent considerable time working outside their home culture, one discovery struck me with considerable force. Being a transcultural executive goes significantly beyond surface activities such as learning a smattering of a foreign language or mastering the perfect bow. It is much more fundamental than that: being transcultural means developing a mindset that reflects a deep respect for other cultures, and a willingness to study them and learn what makes them tick. It contains a genuine, authentic interest in and appreciation of the other culture, and a willingness to adopt that culture as an alternative self. It is a less important self; a winged self rather than a rooted self.
But how do you become this unusual creature? Leaving behind the safety and comfort of your rooted self to become a winged self involves hard work and sacrifice. Norbert Luebben, a German Lufthansa manager who has lived in London for four years, has a simple rule: "No Lufthansa people at the weekend." He and his partner spend their weekends socialising with British people. In the early days this made Lubben uncomfortable; he says he felt like a "homesick 10-year-old" and longed for the comfort of familiar things.
However, after four years, he has become an Anglophile and feels very much at home in British culture. He can put on his British self with ease. In fact, he does it unconsciously and can shift from his German self when talking to Lufthansa colleagues in Frankfurt back to his British self simply by hanging up the phone and talking to his English colleagues.
Michi Sugawara, a marketing executive at Fujitsu, lived in Australia for four years. He found that a good way to nderstand his Australian colleagues was to watch Australian sports: Australian Rules football, cricket and rugby. Not only did it give him something to talk about with his work colleagues, it also gave him an insight into the Australian view of life.
Being truly transcultural means going beyond just making friends. It means digging deeper into a culture and delving into its history, music and art. When you engage in a culture at this more profound level, you will have more insight into its values. It is important that you are seen to be going beyond the surface. Michael MacAdoo, vice-president of strategy at Bombardier Aerospace, had to go to China to negotiate the possibility of building part or all of a new plane type in China.
Rather than taking on the difficult task of learning Mandarin, he used his liberal arts education as a base and spent considerable time reading up on Chinese history and literature. His Chinese colleagues appreciated his respect for their history, but were even more impressed by his interest in Chinese art and literature. What can happen is that a person, in effect, becomes multicultural within themselves. In his book The Diversity Advantage: Multicultural Identity in the New World Economy (2003), G Pascal Zachary argues that the very best international managers hold several different identities simultaneously. They make an effort to develop a deep understanding of a place and incorporate some of their host culture into their own personality, but they also retain their own backgrounds and identities.
Zachary says: "The idea that you can expect somebody to give up their national identity in order to fit in is unrealistic. You can't walk into a room full of people from other countries and leave your identity at the door, but you can bring it to the surface in a way that is constructive."
The benefits can extend beyond the individual to companies and even entire countries, argues Zachary. Korean electronics firm Samsung has enjoyed higher profits in recent years than its Japanese rivals Sony, Toshiba and
Hitachi. Its success can be partially traced to its 'transcultural' philosophy, says Zachary. "Samsung has blitzed its rivals in Japan. Why? Korean firms are very open. They have foreigners in senior positions and actively seek to become more cosmopolitan. Japanese firms still tend to be dominated by Japanese people at senior levels, even overseas. You could argue that Japan's stagnation in recent years has been due partly to this conservatism."
The thrust of Zachary's argument is that becoming transcultural, whether at an individual or corporate level, is a process of hybridisation rather than homogenisation. "You don't try to create uniformity," he says. "You learn to hold different identities at the same time and be comfortable with that."
A good example of this is Sugu Thuraisamy, an entrepreneur who spends six months of the year in Paris, where his wife lives, and the other six in Vancouver, where his start-up business is located. He grew up in British Columbia, Canada, of Sri Lankan heritage. He believes that he has had five or more personas, relating to different circumstances and times of his life.
These include his role as an entrepreneur in urban Vancouver, the time he spent near the Alaskan border among the Haida people when he was in forestry, his life with his wife in Paris, his relationship with his extended family in Sri Lanka and the 'self' he cultivated as a student on an international masters programme at McGill University.
He does not view these multiple selves as a burden. Rather, he sees them as liberating, giving him the freedom to explore different sides of himself. So how should younger managers go about preparing a base for their overseas, 'out-of-culture' experience? A good start is to learn to move between the cultures that exist within any large firm. Most executives begin their corporate lives in one area - for example, finance, manufacturing or marketing.
These functional tribes inculcate us into very specific views of a corporation based on our professional role within it. One of the first challenges you face as a general manager is how to grasp the views of other, competing cultures.
Ultimately, however, there is no substitute for getting your feet wet and actually experiencing another culture. But attitude is key. As Mats Agervi, vice-president, IBM Global Services, Bangalore, says: "A lot of people are held back by fear. You must put yourself in the fire. Most important, realise that different cultures are not a threat. You can learn so many good things from other cultures. It is so interesting to see how it works and be a part of it. It makes me want to learn more." That is the attitude and heart of a transcultural executive.
JAN ZADAK - vice-president and managing director, central & eastern Europe, Middle East & Africa (ISE), Hewlett-Packard, Prague, Czech Republic
Jan Zadak is responsible for Hewlett-Packard's activities in 99 countries, throughout central and eastern Europe, the Middle East and Africa. The diversity of cultures he works with is breathtaking - the kind of challenge a true transcultural executive thrives on. Born in the Czech Republic, it was only after the Velvet Revolution in 1989 that Zadak was free to go abroad. His first foreign trip was a year at a German university as part of his doctorate.
A few years into his career, Zadak found himself travelling 90% of the time while maintaining home bases in Prague and Munich. This constant shift from culture to culture on an almost daily basis presented him with
an enormous challenge. Speaking fluent English and Czech, good German and Russian, and some Italian was very useful, but Zadak believes his attitude to other cultures was more fundamental.
"The beauty of the job is to engage in different cultures and nations - a great experience." His advice for young people is to start early. "My first advice is to focus on a broad education, seek a broad knowledge base and don't focus on what you want to do in detail until later in your education."
Zadak says that building a portfolio of 'soft' personal characteristics, such as patience and communication skills, can make a major difference when attempting to settle in a foreign culture. He also believes that his experience of working across several functional areas within his own company was useful preparation for moving between cultures.
EDITH LEMIEUX - director talent, human resources, Air Liquide Canada, Montreal, Canada
Lemieux feels at home in five quite different countries - Canada, Russia, Japan, France and Belgium. Although at times she feels more European than Canadian, she says, "I am not anything. If I speak to French people, they
think I am French because I have the same accent and the same cultural references. But I don't feel French. I feel culturally more North American, but really probably not that either. I am international."
Born in Montreal, Lemieux moved at the age of five to Belgium where she attended school for eight years. After a brief return to Canada, she went back to Belgium for her university degree; she then lived in Japan for five years - the first year learning the language and then working for four years as a consultant in corporate finance for Peat Marwick.
The next move was to the UK to work for US giant Motorola in strategy and marketing management. Next came Russia, where she again spent a year learning the language before running a logistics centre with 350 employees
- the vast majority of whom spoke only Russian. Though she speaks fluent French, English, Japanese and Russian, she doesn't find languages easy: "Languages are hard work. I do not have a facility for them. It takes
eight hours a day for a year to learn one."
Today, Lemieux, her husband and two daughters live in Montreal. Her advice is to establish a strong sense of 'home' wherever you live. Creating a physical space in which you retain a sense of your national identity is vital. "Books are a big thing for us," she says. "For our last move, we filled 54 boxes."
MATS AGERVI - vice-president, global delivery, IBM Global Services, Bangalore, India IBM Global Services in India has more than 44,000 of employees, helping to make the country IBM's second largest employee base (IBM India has 49,000 employees in total). As a youngster, running such an organisation was not part of Mats Agervi's wildest dreams - he didn't even want to leave home.
Growing up in a small Swedish town of 6,000, Agervi remembers vowing never to move to the big city of Stockholm. The first time he travelled outside the Nordic countries was less than a decade ago. But in 2004 Agervi was offered the chance to run the part of IBM India's organisation that deals with firms outside India. The offer was fortuitous: he and his wife had adopted an Indian girl the year before.
This, coupled with his growing fascination with Asian business, encouraged Agervi to make the leap into the unknown. "I came to India with a very open mind and a respect for the country and its people," he says. "I guess I am eager to explore new situations. I am ready to accept things for what they are, but I always want to understand the underlying reasons."
Agervi believes that crucial to winning the support of his Indian workers has been his focus on not only the present, but also on what will make IBM and India successful for the future. "They say that I feel like one of them - somebody who shares their passion for IBM India and India as a country," he says. "I came to India to lead, but at the same time to learn. I admire and respect the knowledge and skill of my team, and involve them in decision processes that make them feel empowered and engaged."
Karl Moore is professor of strategy and leadership at McGill University, Montreal