Transparency will save our banking system, says Mark Carney
In a speech that should have been titled, 'What we do in Canada and why it's better than what everyone else does', Carney eulogised on the importance of transparency in banking.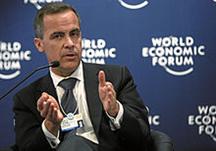 The man who is poised to take over as Bank of England Governor next year gave a rousing (well, for bankers) speech in Toronto yesterday listing a number of his decisions on monetary policy that he feels have led to a financially stable and robust banking system over in the land of the Mounties.
The over-arching theme of his oration centred on transparency, and how it is important to honest about your figures - and show your workings out - whether you're a business, a bank or a government. 'The crisis demonstrated the need for better disclosure by financial institutions,' he said. 'Insufficient and inconsistent disclosure by financial institutions contributed to uncertainty and eroded market confidence. This led to a withdrawal of market liquidity, depressed valuations and increased funding pressures.' This bit was Carney's take on 'our Graham's quick reminder'.

In Canada, of course, there has been no such uncertainty. Why? Because 'Canadians have come to understand the Bank's policy objective and have gained confidence in its attainment over time.' It is this clear channel of communication between the bank and regular Canadians that has allowed Canada to reach that near-mythical goal of 2% inflation. Precisely the figure that we have been so desperately trying to attain in the UK, with little success.
What's that sound? Oh, it's just Mervyn King's teeth gnashing.