A Traveller's Tales, MT's exclusive business travel blog
Nick Hood of Begbies Traynor reports on his business travel adventures, this time from wintry Stockholm.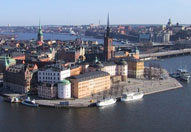 Recessionary cost-cutting may have persuaded some companies to slash their business travel budgets. But web-conferencing will only get you so far; for building great relationships with customers or suppliers, you can't beat some quality face-to-face time. We know that many of you will still be racking up the air miles to go and meet your contacts, so we wanted to start a blog that will allow MT readers to share their experiences of business travel - including their impressions of how different countries are responding to the global downturn.
One man still spending a lot of time on the road (and in the air) is Nick Hood, the executive chairman of Begbies Traynor – although as an insolvency specialist, he is of course in the unusual position of being in a growth industry. Given his job, and given that he spends so much of his time travelling, we thought Nick would be a great person to give us a taste of how the recession is affecting other parts of the world. In previous updates he's reported back on everywhere from Paris to Chicago to Dubrovnik. His latest Traveller's Tale (now on our brand-spanking-new blog site) comes from Stockholm, where the economic picture is as variable as the weather…

"Stockholm has been plunged into traffic chaos by the premature arrival of winter 2009, just as the bar-room banter turned to the desperate thought that Sven-Göran Eriksson might be the answer to an abject failure to qualify for the 2010 World Cup in South Africa.

"But in the recovery departments of Swedish banks, the talk is about what has happened to the anticipated surge of bad debts and insolvencies. Why, they ask, are we not busier? Are we missing something? Surely there must be more problems lurking in our loan books, especially when Saab is reporting a 61.7% drop in car sales to Europe in September?

"Others are more bullish… [CLICK HERE TO READ THE REST].

In today's bulletin:
Bank of England to inject another £25bn of stimulus money
Respite for ITV as advertisers switch back to telly
Bad managers 'biggest cause' of work-related stress
A Traveller's Tales, MT's exclusive business travel blog
Sign up for our free MT breakfast debate - why bosses and IT types really need to talk more