Travelodge gets into bed with Waitrose
What does every up-and-coming destination need? A supermarket and a budget hotel, of course. So runs the logic of Guy Parsons, chief exec of Travelodge.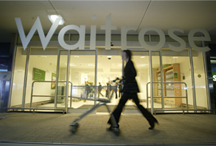 It's a slightly unlikely coupling, Waitrose and Travelodge, budget hotels and a high end supermarkets. For surely, nothing drives down room-service bills like cheap access to peanuts and gin miniatures over the road? And where will shoppers bake their posh ready meals at a Travelodge? Perhaps they can steam them over the kettle.
But Travelodge boss Guy Parsons is positive that this is a match made in heaven. 'Having a Travelodge and Waitrose on site offers an attractive proposition for consumers, developers and investors,' he says. And businesses may benefit, it's true. From swish sarnies at lunch to a bed for visiting clients or suppliers, there is definitely a case to be made.
Travelodge certainly hopes so: it's spending £27m to follow Waitrose to three new sites next year. The first, in Sidcup, will open in August. Next stop, Aylesbury in Buckinghamshire. And lastly in Vauxhall, London.