Travelodge's owners are keen to check out
The budget hotel chain appears to have turned around - and could be heading for a float.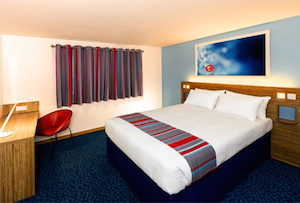 Three years ago, things were not looking good for Travelodge. The budget hotel chain, launched back in 1985, was up to its eyeballs in debt – forcing it to seek an emergency loan and ultimately to be acquired by current owners Goldman Sachs, GoldenTree Asset Management and Avenue Capital Group.
What do the folk at Goldman Sachs know about budget hotels? They're surely more used to Claridges than a Travelodge, you might think. But the deal appears to have paid off as revenues have soared and debts have withered.
In the six months to 1 July total revenues were up 17.9% to £261m, thanks to increased occupancy rates and a jump in average room rates - which were up 11.4% to £48.19. Travelodge can get away with charging more thanks to a revamp that included the 'modernisation' of 92% of its rooms. MT recently spent a night at the chain's Gatwick Airport hotel and can confirm that, though expectedly soulless and basic, it did the job for a reasonable price.