Tricky times for techies?
As Intel, like IBM, posts strong quarterly results, what do the coming months hold for the tech sector?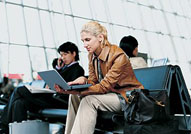 It's been a good few months for Intel: the US chipmaker said last night that it made better-than-expected profits of $2bn in the three months to September, a 12% rise on last year. This was a third-quarter record for Intel, suggesting that business is holding up pretty well despite the recent turmoil. After slimming down significantly in the last couple of years, Intel is probably better-placed than most to weather the storm – but if the world's economy is going into meltdown, won't we be spending less money on computers?
Well, nobody seems quite sure. Intel was pretty coy about its prospects for the coming months, warning that it was impossible to tell how far the financial crisis would affect demand. But it's revised its fourth-quarter forecast down slightly: it's now expecting sales to fall somewhere between $10.1bn and $10.9bn (a pretty huge range), while margins may also be squeezed as it sells more of its new lower-cost Atom chips, which are used in smaller computers and mobile devices.
Indeed, it's a pretty mixed picture throughout the tech sector at the moment: some (like IBM and Intel's fellow chip-maker Altera) seem to be holding up well, others seem to be struggling. One big advantage for Intel is that it's spent the last two years 'rationalising' its workforce, a.k.a. cutting 20,000 jobs. It's also been reducing manufacturing costs thanks to its whizzy new nanotechnology (which basically allows it to cram even more transistors into an even smaller chip, making them faster but cheaper to run), boosting margins to nearly 60%. As a result, it now has about £12bn nestling safely in the bank (well, as far as any bank counts as safe these days).