Is there trouble ahead for price comparison sites?
Big brands like MSN and Tesco are muscling in on price comparison. Bad news for the pure-players...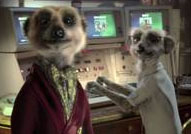 Building a big consumer brand is a tricky and expensive business – particularly in a fiercely competitive area like price comparison websites, where there are no great switching barriers (our editor's love for the Compare the Market meerkats notwithstanding). So we were interested to see this morning that Microsoft's online portal MSN has just strengthened its own price comparison offering, by extending its coverage to utilities. The advantage for the likes of MSN (e.g. Tesco, which has also started to muscle in) is that they already have lots of regular users, making it much easier and cheaper for them to build traffic. Which means the competitive field is going to get tougher and tougher for the pure players. Will Aleksandr and co survive?

We're guessing you can probably name several price comparison sites (MoneySupermarket, uSwitch, Confused to name but a few) – a reflection of just how much they've been advertising in the last few years. A few years ago, changing the car insurance involved a tedious round of phone calls; now these ads have educated us all to the idea of doing it online. However, the result is that it's become very expensive for these myriad sites to acquire new customers. They also have low customer satisfaction ratings, according to a recent survey by Which, with users questioning their comprehensiveness and independence. So all in all, it's perhaps no wonder that uSwitch is reportedly about to be sold for about half the price its current owners paid three years ago…

Enter the likes of MSN, Yahoo, Tesco, Argos, and the Daily Mail (amongst others). Now the concept is well-established, it's easy for well-established brands like these to push their existing users towards their own offering – making traffic-building much cheaper. And since most buy in the software on a white-label basis, they don't even have to go to the trouble of creating it themselves.

The MSN site, for example, is provided by BeatthatQuote.com – which is so convinced of which way the wind is blowing that it's directing all its efforts towards partner deals, rather than its own brand. 'These companies have been able to raise the bar still further by offering vouchers and cash-back when you buy through them,' BTQ boss John Paleomylites tells MT. 'Given that price drives consumer behaviour, we have seen our partners' market share grow hugely in a very short space of time. We feel they'll ultimately prevail as the primary providers of price comparison to consumers.'

On the other hand, it's worth remembering that the Meerkat campaign has almost doubled CTM's traffic. So there's still likely to be room for a few specialists – perhaps just not as many as there are now...

In today's bulletin:
BA falls as turkeys vote for Christmas strike
Cadbury bid defence is a Fudge, says crotchety Kraft
Fuel pushes inflation to six-month high
Editor's blog: Painful changes at BA and Royal Mail
Is there trouble ahead for price comparison sites?