More trouble as RBS is fined $100m for breaking US sanctions
The Royal Bank of Scotland has been fined by US regulators after allegations it violated sanctions prohibiting business dealings with Iran and other regimes.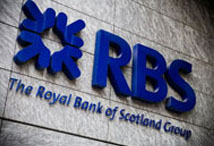 A day after its finance director unexpectedly quit, RBS has been dealt another blow by being hit with a $100m (£62m) fine for breaching US sanctions with Iran, Burma, Cuba and other countries.

The 82% taxpayer-owned bank was found to have removed data when making payments that could have identified it was moving money to countries subject to international sanctions.
RBS instructed employees to list the name of a financial institution rather than its identifying codes on wire transfers, the Treasury Department said. This stopped the bank's payment system from automatically including references to Iran in the cover messages sent to US clearing banks.
From at least 2002 to 2011, the regulator said that more than 3,500 transactions involving Iranian and Sudanese entities passed through New York banks with a value of around $523m.