The trouble with talent spotting
EVERYTHING YOU KNOW ABOUT BUSINESS IS WRONG: Don't rely on flashy, new recruitment tools - it's more important to identify the candidate that's right for your organisation.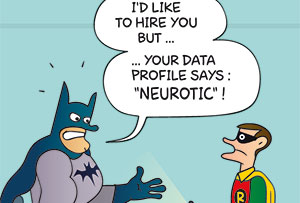 I recently saw a flashy presentation on the rise of big data in employee selection. Amazing what you can find out from someone's Facebook page. The frequency of certain words indicates neuroticism. A liking for Leonard Cohen maps to a high IQ. This stuff left old-school techniques like interviews and references choking in the dust.
But be careful - the candidate is only half the story when you're hiring. It's equally important to understand the organisation into which they are being recruited. All firms are not the same and someone who thrives in one might very well wilt in another.
I worry that, carried away by their enthusiasm for new toys, many users of these tools will miss this vital point. So rather than trying to identify those most likely to do well in their particular organisations, instead I have a horrible vision of hundreds of HR managers all converging on the same small pool of stereotypical 'talent'.