The true cost of the Icesave meltdown
One MT reader had £17,000 saved with Landsbanki. Now he faces a long fight to get his money back.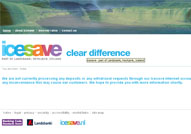 We suspect many people in the UK will dismiss Tuesday's nationalisation of Landsbanki – and the ongoing financial meltdown in Iceland – as someone else's problem. We've got enough to worry about ourselves, people will undoubtedly think. But thanks to Landsbanki's Icesave arm, about 300,000 people in the UK will be affected by the bank's collapse into receivership – and it could well be our tax money that pays them back. We spoke to one of our readers who's desperately trying to get his savings out of the stricken bank...
Ironically, he only opened the Icesave account earlier this year to try and spread his savings around, to avoid over-exposure to the UK banks. Already a fan of Iceland after visiting the country in January, Icesave's highly-rated ISA quickly caught his eye when he started looking for an alternative provider. 'It wasn't quite the best rate, but it was always near the top of the comparison rankings – and it seemed far more reliable than all of the higher-paying options,' he said ruefully. Between February and April he opened two ISAs and a savings account, transferring across £17,000 in total.
As rumours about Iceland's financial trouble mounted on Monday, he went straight to the Icesave website – only to find a statement reassuring investors that Landsbanki was perfectly safe and very different to Glitnir (the Icelandic bank part-nationalised last week). The statement's since been removed, but we tracked it down online: Iceland, it says, 'has a strong Government fiscal position with negligible external debt'; it's 'driven by internationalisation and a growing financial sector, but otherwise anchored in sectors not affected by the current downturn' and has 'enviable long-term prospects'. And unlike Glitnir, Landsbanki's 'sound business model', 'reduced reliance on capital market funding' and 'stable recurring revenues' would stand it in good stead. So much for that...