Trust and the female boss
According to our poll, faith in CEOs holds up best when a woman's in charge.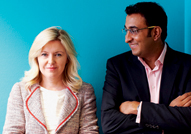 It's the second year of the MT/Institute of Leadership and Management (ILM)'s Index of Leadership Trust survey and although the recession continues to cast a long shadow, the news is mostly good. Of the 5,000 people polled (2,405 managers and 2,595 non-managers), 47% of respondents thought their chief executive officers had handled the impact of the recession either 'very well' or 'quite well'. Another 39% gave their bosses an ambivalent 'neither well nor poorly' performance rating.
All of which means that the CEO index score, as researched by consultancy FreshMinds, has increased by four points to 63 this year. Leaders were rated particularly highly for their ability to create more open and understanding cultures. 'It goes to show that CEOs are doing a lot of work around their own visibility, but are also empathising with the experience their people are having,' says Penny de Valk, chief executive of the ILM. 'It plays to the strategy of "don't be a stranger".'
Of particular interest is the fact that overall trust in female CEOs remains higher than trust in male CEOs, as was the case last year. But the largest year-on-year increase in CEO trust is experienced between male employees and their female CEOs - an increase of eight index points on last year. And most of this increasing level of trust was experienced by non-managers, who registered an increase of a massive 11 index points in their trust for their female CEO between 2009 and 2010. It's a theme we explore in our interviews with Rosaleen Blair, CEO of recruiters Alexander Mann Solutions and Barbara Stocking, CEO of charity Oxfam GB, and some of their male colleagues.