Trust your instincts, with YouTube
Tips for going with what you feel, from Garth Marenghi, Family Guy and The Incredibles.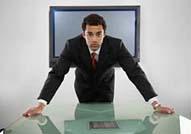 Listen to yourself. And act on it. If you're going for a new job and everything seems to be telling you to leave, there's probably a good reason. Ignore it and, even if you're not living in an obscure spoof of a 1980s horror film like Garth Marenghi's Darkplace, things may not turn out for the best.

Stick to your guns. The hardest thing about trusting your instincts is that others often take the opposite tack. How much do you really believe what you're saying? Here Family Guy's Peter Griffin stands his ground against his entire family, even as they're on the verge of disaster. The fact is, he believes he's right.
Be prepared for the fall-out. Sometimes you have to make a choice: what you believe isn't necessarily what the company wants. It's a tough choice. Yes, you have a responsibility to your employer, but sometimes you have to honour your own beliefs. When Mr Incredible decides he has no choice but to help his poor customers, he gets hauled over the coals.