The truth will set you free
Apparently Labour MP Kate Hoey has pledged her support to a campaign for a 'National Tell the Truth Day' on January 3. So does this mean we've got carte blanche to lie through our teeth for the other 364 days of the year?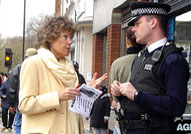 The campaign is the noble brainchild of Tamara Gillan, the boss of SPF15 (a marketing agency, not a type of sunblock). Appalled by Blue Peter phone-ins, shady political donors and amnesiac canoeists, she wants to strike a blow for honesty in public life. 'Wherever you look these days, it is becoming increasingly acceptable to mislead and distort and I think it's time for those of us who feel strongly about truth to take a stand on this,' she says.
Gillan's rather novel way of enlisting support for the plan is to mobilise MPs – a group of people who are widely considered to be up there with Baron Munchausen when it comes to honesty and probity. So far Ann Widdecombe has already pledged her support, as have (the rather lower-profile) Ian Cawsey and Laura Moffatt.
We can't help but find this a terrifying prospect. After all, how many little white lies do we tell every day in the interests of politeness? Can you really risk telling your partner exactly what you think of their new outfit? Or giving your boss honest feedback on his leadership skills? It's a recipe for disaster.