Tucker warns 'worst may still be ahead'
We're not out of the woods yet, according to deputy BoE governor Paul Tucker, who thinks that there could be worse to come for the economy.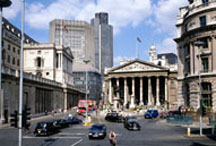 The deputy governor of the Bank of England, Paul Tucker has gone for a slightly more hair shirt approach to applying for the top job on Threadneedle Street. Pleasing the government powers that be, and chiming in with Osborne's line, he told an audience at the British Bankers' Association that we may simply be in the eye of the storm as far as the economy is concerned. He said: 'There is a tangible probability – not a high probability – that the worst may still be ahead,' and urged banks to hold larger amounts of capital in their coffers. We can only guess that this idea got something of a cold reception in a room full of bankers wishing to squeeze every last drop of profit out of their operations. But easier on the government ear after Adair Turner's public application for the job last week...
Tucker, who is favourite to success Sir Mervyn King in the top job at the BoE, also pointed to the high wages in the financial sector as one of the causes of the financial crash in the first place. He said that bosses should get part of their pay in the form of bonds in the company so that they have a vested personal interest in the financial stability and health of their company. He got specific, hinting that senior management should be paid in 'subordinated debt', which is normally the first type of cash to be written down when firms are having a tough time. We don't know quite what it means, but it sounds more sensible than multi-million pound cash bonuses.
The deputy continued his catalogue of recommendations with a call for a pay review for the most junior of bank employees. He said: 'That would make it less easy to get rich quick irrespective of the quality of the business transacted or the compliance culture in their part of the firm.' Again, unlikely to be a popular idea with bankers who themselves got rich with high front-end wages, and whose protégés will be tempted to scarper to the highest paying banks if wages start falling.