Turmoil at Tesco continues as two more directors set to leave
The company secretary and audit committee chair are expected to quit. Convenient timing...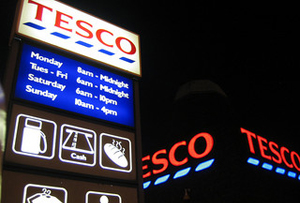 There seems to be no end to the upheaval at the top of Tesco at the moment, with two more directors set to quit as the investigation into the £250m overstatement of its first half profits continues.

Company secretary Jonathan Lloyd, who serves on the board but isn't technically part of it, is due to leave next March, having handed in his resignation in early September before the profit hole was discovered. Meanwhile, audit committee chair Ken Hanna is expected to step down later this year, at the end of his six-year term as a non-exec director.

Neither departure is linked to the accounting debacle, the FT said without specifying its sources, and Tesco refused to comment, but it adds to the picture of a board in turmoil. The timing also looks rather prescient.

The supermarket's auditors PwC had warned the company's commercial income (where suppliers actually pay it – for example, to get a better place on the shelves or to fund promotions), was at risk of manipulation.

In response, Hanna, writing in the retailer's annual report, said it wasn't a 'significant issue' and there was 'an appropriate control environment which minimises risks in this area'. Seems he spoke too soon though – the £250m shortfall was reportedly down to that classic accounting trick of booking income early while delaying payments to suppliers.

Five executives have been suspended since new boss Dave Lewis found out about the hole, which is also being investigated by the Financial Conduct Authority. Last week, two new non-exec directors were appointed in a bid to shore up investor confidence in the board and stave of criticism of a lack of retail experience at the top table, although that was just a day before commercial director Kevin Grace joined the four other execs on garden leave.

Lewis also parachuted new finance chief Alan Stewart in from Marks & Spencer three months early. He may have wanted to refresh the top team with his own people, but can't have expected it to be quite so drastic.

Once Tesco's refreshed board is finally in place, the ex-Unilever exec will no doubt be hoping to fully focus his attention to the titanic task of turning around Tesco's falling sales and market share. For now, though, the supermarket's shareholders are waiting impatiently for the company's first half results on October 23rd to reveal more about that missing £250m.
- Read: What Tesco's £250m Septimana Horribilis says about boards