Turn off the Crackberry this Christmas
New research has found that two-thirds of us will check work emails before opening presents on Thursday...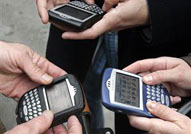 Apparently over-worked Brits are so worried about their economic woes that they won't be able to switch off over the holiday season. Hotel group Crowne Plaza's latest research found that 67% of British workers said they would check their PDA or BlackBerry for emails on Christmas Day before they got around to unwrapping presents. So at a time when they should be enjoying a leisurely Bucks Fizz, or trying to stop the kids becoming hysterical with excitement, they'll be busy emailing Mike in accounts for a new invoice code. Not really the true spirit of Christmas…
The research also found that the proportion of people planning to check their emails on every single day of the Christmas break (which you might argue makes it not much of a break at all) has more than doubled in the last nine months – from 31% in March to 75% in December. Such a rapid rise in such a short period of time will inevitably lead some to conclude that the deteriorating economy has made it much harder to put work to the back of our minds.
Of course, it could just be that these figures reflect our need to be constantly contactable by all our friends – and since so many people now communicate by email, you might argue it makes sense to be checking your emails as a matter of course every day, including Christmas. And the fact that younger people (i.e. 16-24 year olds) are checking their devices most regularly (91% said they'd look at emails on Christmas Day) gives some weight to this theory.