Turning the tables on spammers
Next time you're the victim of dirty marketing tricks, why not try and turn the situation to your advantage...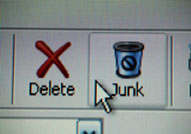 There are few things more annoying than spam – or, for that matter, companies that fail to deliver on the over-blown promises in their marketing material. So any business would be rather upset to discover that someone had sent out a fake email in their name, offering entirely fictitious rewards for distributing it more widely – presumably with the aim of irritating as many people as possible. But when this happened to internet retailer Into the Blue, which sells activity gift vouchers, swift action seems to have allowed the company to turn this unpromising situation to its advantage…

The fake email, supposedly from the company's MD Jim Maitland, suggested that people would get free vouchers if they re-sent it to at least eight people – and if they managed 20 forwards, they'd get a free Mercedes SL 500 on hire for a weekend. Some people probably smelled a rat, given it came from an anonymous Gmail account. But lots of others didn't, and so were up in arms when their promised rewards failed to arrive. The first Into the Blue heard about it was when over 500 of these irate people called to complain – just as it was preparing for the Christmas rush…

After a hasty conflab, the firm decided to try and make a silk purse out of this spam's ear. Naturally it had to start by admitting that the offer was phoney; but rather than leaving it there, it then offered interested customers a discount on a new voucher. As a result, it actually managed to boost sales by about 1.5%, according to marketing manager Rob Holmes – and some of these people were completely new customers, who'd never even heard of the site before. Proof of the old adage that all publicity is good publicity? 'It can be,' says Holmes cautiously. 'It depends how you manage it'.
It's always good to see firms turning adversity to their advantage (and with sales apparently up 30% for the year to date, Into the Blue appears to have done a good job of that in 2009), even if it is a painful process. Although in some ways, it's not the people who are angry enough to complain that are the problem; at least you get a chance to interact with them and address their concerns. What's almost more of a worry is the impact on those who receive this kind of email forward and even if they immediately delete it, retain a negative image of your brand. But unfortunately there's not a great deal you can do about that, other than hope for a chance to change their mind at a later date...