The Twenty Twelve Effect
For many small firms, 2012 has been a year of opportunity for overseas expansion, and that's on top of the homegrown Olympic and Jubilee boosts.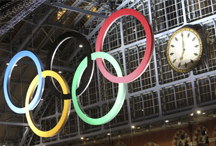 What a year for the UK! With all eyes on Britain for the Queen's Diamond Jubilee in June, followed by the kick off of the London 2012 Olympic and Paralympic Games on 27th July, 2012 was touted as a year to remember. Beyond the morale boost the country was promised, politicians also pledged a real economic reward for Britain's small and medium enterprises this year.
But has 2012 really lived up to its hype? Judging by recent figures released by the government, there has certainly been some improvement, with the economy seeing a growth figure of 1%. Many have attributed the modest increase to this year's 'one-off' events. Although these factors may have played a role in economic and business growth, I believe those SMEs which have flourished this year have done so for reasons beyond just circumstance.
So what has truly made the difference between those businesses that have succeeded, and those that have slowed over the course of 2012? According to a study by Santander, there are certain characteristics that are common across successful small enterprises. Predictably, ambition, experience and access to finance were cited as key factors in SME success – but expanding international markets was also listed in the findings.