Twitter turns 10: will it make it to 20?
The social network is celebrating its tenth birthday, but the next couple of years could be its toughest yet.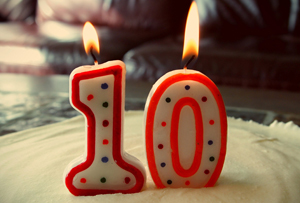 Twitter might not be in the mood to celebrate at the moment, considering the constant barrage of doomsday predictions it's had in recent months, but the tech giant has just reached its tenth birthday.
Back in 2006 of course it was in totally different shape – it didn't even have vowels in the name Twttr and founders Jack Dorsey, Evan Williams, Biz Stone and Noah Glass initially launched it as a kind of SMS service for users to communicate with a small group.
It now plays host to everything from celebrity spats to breaking stories. And of course, a hunting ground for journalists when it's a particularly slow news day. How many times have you seen a 'Twitter reacts to...' or 'So and so gets a backlash on Twitter'?