Two-thirds of directors vote against quotas for women on boards
Almost 66% of directors and managers who voted in an MT poll said they do not believe there should be a 40% minimum quota for women on boards.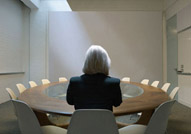 In response to the EU discussions on introducing quotas for the number of women on the boards of public companies, MT conducted an online poll of managers and directors to test the water.
In the poll, MT asked 317 people: 'Are you in favour of the 40% minimum quota for women on boards?' Of those who responded, 66% said they were not in favour of a quota, whilst the remaining third (34%), said that they would prefer to see a quota in place.
The poll did not ask for any information about respondents (i.e. male or female, manger or junior), and the question required a simple 'yes' or 'no' answer.