Twotation: Twitter reckons it's worth $11bn
The company has revealed the price range for its shares. They're not cheap.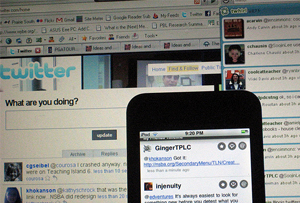 Another step on the road to what, in the grand twadition of all things Twitter, we will henceforth refer to as 'Twotation': the company today revealed the price range for its shares.

In a filing this morning, it said it was hoping to sell 70 million shares, each priced at between $17 and $20 (£10-£12), which will, stock market meltdowns (cf. Facebook) notwithstanding, raise $1.4bn for the company.

Those 70 million shares constitute 13% of Twitter – which values the entire company at $11bn. Although that's less than originally thought, suggesting Twitter would rather avoid the same fate as Facebook, which priced its shares at an optimistic $38 and then watched in horror as, after an initial peak, their value plummeted (to be fair, after just under 18 months, they're now trading at $52.44 – so it worked out in the end).

Still: with that value, Twitter will be the second-biggest company ever to go public. According to documents it filed as part of the listing (twisting?), it has 218 million monthly users and 500 million tweets are sent a day. Despite those numbers, though, it still hasn't quite figured out how to turn a profit: in the first half of this year, it made a loss of $69m on revenues of $254m.

Although some analysts have questioned whether, with numbers like that, it can possibly justify its value, others point out that revenues have risen from $28m in 2010 to $317m to the end of 2012. So it's definitely got potential.

It could do worse than to ask Samsung Electronics for advice: the company has today announced a 26% jump in profits during its third quarter, with profits of 8.24tn won (£4.7bn).

Not surprisingly, the company said sales of smartphones had been a key driver of growth (that's a bit like McDonald's saying burgers are a key driver of growth). Its semiconductor business (which supplies arch-nemesis Apple) was also strong: it doubled its profits two more than 2.1tn won, apparently because of a rise in chip prices after a fire at a plant owned by one of its rivals.

The company has been the biggest smartphone manufacturer in the world for a while now, but the new race is on to see whether it can become the biggest manufacturer of 'wearable tech', too. It launched its smart watch – the Galaxy Gear – last month. Can it beat the rival wearable alliterative gadget the Google Glass? Or will they have to get into bed with a freshly-floated Twitter and launch the Twatch? It's gripping stuff.