Tyrrells is finally embracing advertising
Posh crisps can't sell themselves.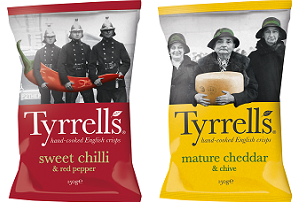 Tyrrells is a remarkably successful brand. Founded 13 years ago by a Herefordshire potato farmer, the company has grown in leaps and bounds, sells crisps into 37 countries and made almost £50m of sales in the year to August. It's achieved all that despite shunning traditional forms of advertising.
Instead the firm has relied on word-of-mouth, PR campaigns, social media and what it calls 'packvertising' – the charmingly English designs on its brightly-coloured packets. But now it's going in a different direction. Yesterday the brand launched its first ever 'integrated advertising campaign' in the form of more than 1,500 billboards in London and the south-east.
According to the company's delightfully on-brand marketing director, Jocelyn McNulty, the campaign is 'a call to arms to say, "Any gathering with the right attitude and the right crisps can become an event".' Okey doke.