Uber banned in Delhi after driver accused of rape
No matter how much it may want to, the $40bn startup can't escape responsibility for its drivers.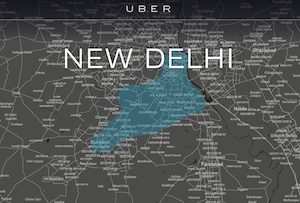 It seems barely a week goes by without Uber being embroiled in a new controversy. The five-year-old private car hire company, valued at an eyewatering $40bn (£25.7bn) just last week, was banned in Delhi today after one of its drivers was arrested on suspicion of raping a passenger.

Indian police tracked the driver down after a woman in her mid 20s alleged the driver raped her when she fell asleep in his taxi on Friday night. They are now looking to prosecute Uber for failing to do a proper background check on 32-year-old Shiv Kumar Yadav, who, according to various reports, had already spent seven months in prison for sexual assault in 2011 and didn't have a valid cab drivers license.

'What happened over the weekend in New Delhi is horrific,' Uber founder and CEO Travis Kalanick said in a statement published on the company's blog. 'We will do everything, I repeat, everything to help bring this perpetrator to justice and to support the victim and her family in her recovery.'

A previous statement by Saad Ahmed, Uber's head of marketing in India, said it had handed over driver, vehicle and trip data, and made a point of saying it only took on government-licensed drivers. But Kalanick subtly tried to shift the blame, saying, 'We will work with the government to establish clear background checks currently absent in their commercial transportation licensing programs.'

Uber has invested heavily in Asia, and India in particular, with its latest $1.2bn funding round earmarked for eastern expansion. But while India's urban transport manages to be both anarchic and heavily regulated, it isn't particularly sensible to blame the very authorities you need to get on side, as a western company in a country where memories of colonialism aren't exactly kind and where outrage over violence against women has recently ballooned.

The incident is also another sign that Uber needs to stand up and take responsibility for its drivers across the world. Its terms of service are explicitly construed to place liability squarely with passengers (similar to competitors like Lyft)- it classes drivers as 'third party providers', while it is a mere app bringing the two together (also helpfully allowing it to avoid all those pesky employer-staff regulations).

Moreover, there were plenty of horror stories involving physical and verbal abuse, sexual assault and alleged rape before this one that don't seem to have stopped the startup in its turbo-charged tracks.

One or even a handful of incidents could be passed off as growing pains (how many ordinary taxi drivers are involved in such things every day, one wonders?). But this latest one, coming hot on the heels of bust ups over tracking and digging up dirt on critical journalists, at best shows that Uber is struggling to cope with its exponential growth, and at worst cares only about wringing money from both drivers and passengers – whatever the cost.