Uber could be forced to treat its UK drivers as employees
The GMB union is suing the taxi app and claims its should offer the minimum wage and holiday pay.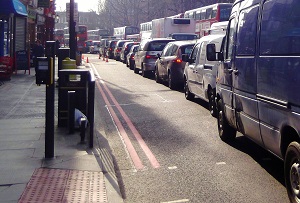 Uber is no stranger to controversy and today's latest attack is likely to be water off a duck's back. The GMB union has said it is taking legal action against the taxi-hailing company for not giving its drivers the same rights as normal employees.

The service is structured in such a way that its drivers currently work as sole traders, responsible for organising their own hours and expenses to maintain an income. GMB says that, because Uber controls how much passengers are charged, assigns specific routes and rates drivers using a points system, they are in fact employees and should therefore be entitled to the minimum wage and holiday pay.

'We believe that it's clear from the way Uber operates that it owes the same responsibilities towards its drivers as any other employer does its workers,' said Nigel MacKay, a lawyer at Leigh Day, which is acting on behalf of GMB. 'If Uber wishes to operate in this way, and to reap the substantial benefits, then it must acknowledge its responsibilities towards drivers and the public.'

Uber, of course, continued to insist its drivers aren't employees. 'One of the main reasons drivers use Uber is because they love being their own boss,' a spokesperson said. 'As employees, drivers would drive set shifts, earn a fixed hourly wage, and lose the ability to drive elsewhere as the personal flexibility they most value.'

Those who believe the GMB is mainly concerned about the livelihood of Uber's drivers may be puzzled to discover that just six weeks ago the union was calling for the startup's taxi licence in London to be revoked over claims its vetting process was inadequate. Valid concern or not, it's unlikely that Uber's drivers would be too pleased if the company generating their income was no longer allowed to operate.
---
---
To be fair to the GMB, its complaint does draw attention to the difficulty in drawing a clear line between employment and freelancing. At a time when increasing numbers of businesses are keen to outsource some of their processes to the self-employed, the boundary between worker and sole trader is increasingly blurred, leading to some not receiving the benefits to which they are arguably entitled.
Uber has faced similar protests around the world from unions and politicians concerned about the shift away from jobs for life towards more casual forms of work. Nonetheless this publicity stunt is an unwelcome attack on an innovative business that's forced pricey black cabs to compete harder – to the general benefit of London's consumers.